K D P

NEWS

UNIVERSITIES



ORGANIZATION

Kurdistan Democratic Party was established on 16th August 1946 under the leadership of the late Mustafa Barzani.

The leadership and organisational structure of the Party is as following:

President
Vice President
Political Bureau
Central Committee

The structure and party administration is divided into regions or branches known as (liq) districts as (nawcha), local organisations as (rek-khraw) and cells as (shana). Eack liq is subdivided into nawchas; nawchas into rek-khraws and rek-khraws into shanas.

1st Baranch Dohuk region
2nd Branch Erbil
3rd Branch Kerkuk
4th Branch Sulaimania
5th Branch Formerly Baghdad
6th Branch Europe (London)
7th Branch Northern America (Washington D.C.)
8th Branch Iran
9th Branch Aqra
10th Branch Soran (Rwanduz region)
11th Branch Rania/Qala Diza
12th Branch Halabja
14th Branch Mosul
15th Branch Dyala-Qaniqin
16th Branch EIrbil-Shawis
17th Branch Shingal
18th Branch Amidy
19th Branch Jamjamal
20th Branch Shekhan
21th Branch
22th Branch Garmiyan-Kalar
23th Branch Makhmor
24th Branch Shaqlawa
Members of Political Bureau or Central Committee head each branch. Other members are elected at branch and district conferences.

In order to become a delegate member for the Party's General Congress, any party member is entitled to become a candidate at a local or regional level elections.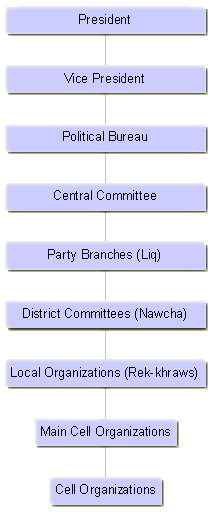 KURDISTAN

-------